Saskatchewan
Click on plate for larger image
Current style (July 2016) Saskatchewan license plate without sticker well
---
Click on plate for larger image
Current (July 2016) Saskatchewan Support Our Troops plate

Image sent by Jack McGee of Meridian, Idaho
---
Click on plate for larger image
Currently used (September 2015) Saskatchewan license plate

Image sent by Cody Skoff of Coos Bay, Oregon
---
Click on plate for larger image
Current (May 2015) Saskatchewan Rider Nation plate
Current (May 2015) Saskatchewan collector vehicle plate
September 22, 2008 expiry on Saskatchewan Veteran plate
Image sent by Paul Wingert of Regina, Saskatchewan
---
Click on plate for larger image
Current (June 2014) Saskatchewan license plate
Current (June 2014) Saskatchewan farm vehicle license plate (old expiry stickers covered)
Click on plates for a larger image
Current (June 2014) Saskatchewan Roughriders plate (old expiry stickers covered)
Continuous sticker on Saskatchewan Veteran's license plate

Images from Sam Farley of Concord, Massachusetts
---
Click on plate for larger image
Current (April 2014) Saskatchewan license plate (new plate with no sticker well)

Image from Facebook posting of Jerry Woodhead of Edmonton, Alberta
---
Click on plate for larger image
July 29, 2013 expiry on Saskatchewan farm plate (F sticker on left)

Image from Andrew Osborne of Winnipeg, Manitoba
---
Click on plate for larger image
Continuous registration on Saskatchewan veteran plate in use August 2013
Currently used (August 2013) Saskatchewan license plate
Click on plate for larger image
November 30, 2012 expiry on Saskatchewan license plate
Undated Saskatchewan license plates in use August 2013 (looks like the old stickers were peeled away or covered up)

Image from Sam Farley of Concord, Massachusetts
---
Click on plate for a little larger image
---
Click on plate for a little larger image
Continuous term sticker on Saskatchewan license plate in use September of 2012
---
Click on plate for a little larger image
March 20, 2010 expiry on Saskatchewan consular corps plate
Continuous sticker used on Saskatchewan Roughriders vanity plate

Images sent by Paul Wingert of Regina, Saskatchewan
---
Click on plate for a little larger image
---
Click on plate for a little larger image
September 26, 2012 expiration on Saskatchewan license plate
Current (October 2011) Continuous term sticker on Saskatchewan license plate
---
Click on plate for a little larger image
Continuous stickered Saskatchewan motorcycle license plate in use August 2011

Image from Mike Glauboch of Butte, Montana
---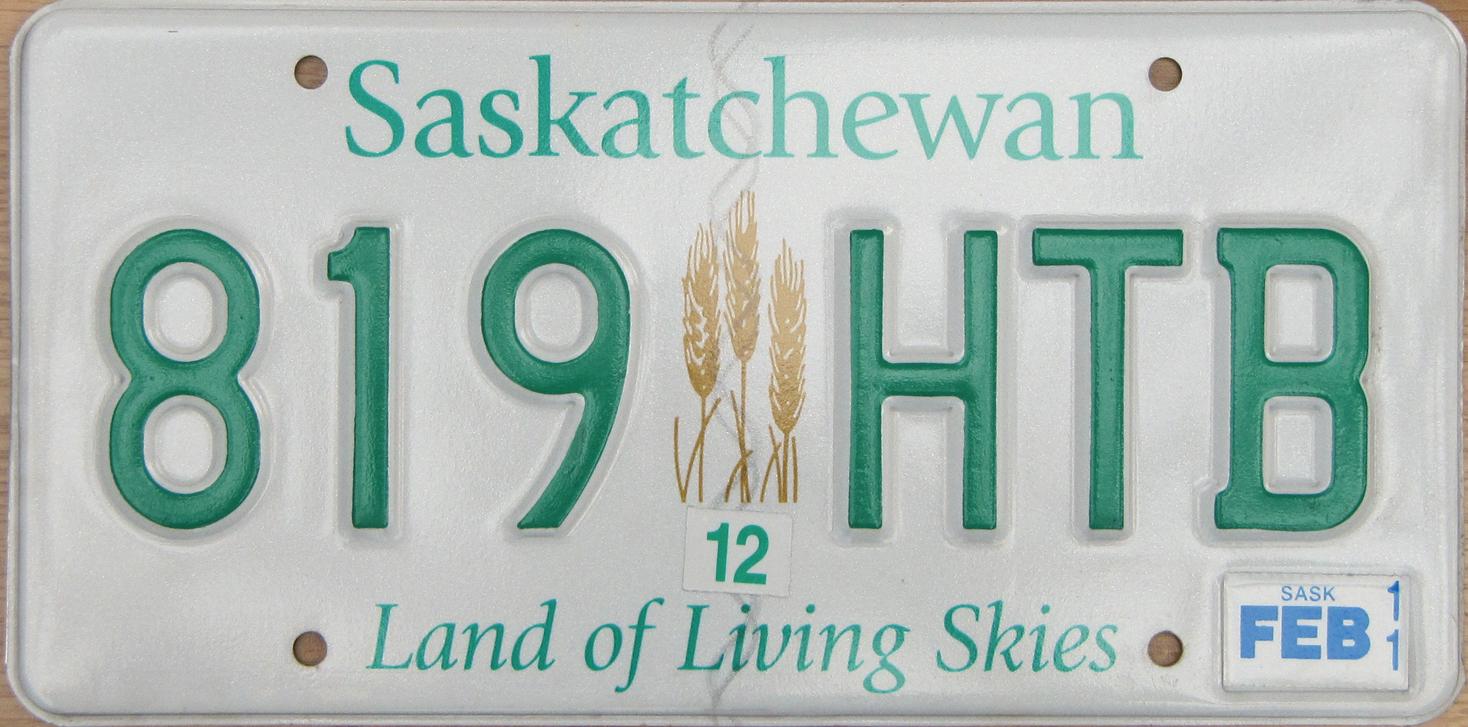 Click on plate for a little larger image
February 2011 expiry on Saskatchewan license plate
---
Click on plate for a little larger image
June 6, 2011 expiry on Saskatchewan motorcycle plate
Click on plate for a little larger image
November 12, 2010 expiry on Saskatchewan license plate (new die type)

Image sent by Paul Wingert of Regina, Saskatchewan
---
June 23, 2011 expiry on Saskatchewan license plate
Current (November 2010) Saskatchewan front booster plate

Images sent by Jeannine de Jonge of Zwanenburg, the Netherlands
---
Current (July 2010) Saskatchewan perpetual trailer plate
September 28, 2010 expiry on Saskatchewan vanity plate
June 2011 expiry on Saskatchewan, older base, license plate

Image sent by Jim Sadler of Ottawa, Ontario
---
Click on plate for larger image
July 9, 2009 expiry on Saskatchewan license plate
January 30, 2011 expiry on Saskatchewan license plate
July 24, 2010 expiry on Saskatchewan Roughriders plate

Image sent by Paul Wingert of Regina, Saskatchewan
---
Click on plate for larger image

June 2009 expiry on Saskatchewan license plate
---
---
Click on plate for larger image

September 28, 2006 expiry on Saskatchewan license plate
---
Click on plate for larger image

January 2005 expiry on Saskatchewan license plate
---
---
---
---
---
June 2002 expiry on Saskatchewan license plate. Image sent by Andrew Osborne of Winnipeg, Manitoba.
---
Click on plate for larger image.

Saskatchewan motorcycle license plate with May 2002 expiration. Sent by Paul Wingert of Regina, Saskatchewan
---
2000 Saskatchewan passenger plate sent by Adriaan Bergink of Parksville, British Columbia
---
2001 commercial plate sent by Paul Wingert, Regina, Saskatchewan.
---
Brought to you by Paul Wingert, of Regina, Saskatchewan
As a follow up, see New Saskatchewan plates with new slogans for a new era brought to you by Andrew Osborne, Winnipeg. Manitoba.